Learn Online Quran with Tajweed Today!
Quran College is an impressive online academy for teaching the Quran. This leading online Quran academy from Pakistan provides you an excellent chance to have one-to-one online Quran classes with tajweed and learn the basic teachings of Islam. Our courses are open for individuals from the age of 4 years to 70 years.
 Holy Prophet(PBUH) said, "The Best amongst you is the one, who learns Quran and teaches it."
Quran College is the pioneer and leading Online Quran Academy, founded by a team of Islamic scholars in 2010. With a team of dedicated native Arab and non-Arab Quran teachers, we are committed to set standards in Online Quran Teaching with Tajweed.
We at Quran College provide your and your kids with a great opportunity to learn Quran Online with Tajweed at home conveniently. You can learn Online Noorani Qaida, Reading Quran with Tajweed, Quran Memorization, Tafseer -e- Quran, and  Arabic Language at your place without disturbing a busy life schedule. We have developed the best Online Quran Courses for kids and adults to improve Quran recitation and memorization.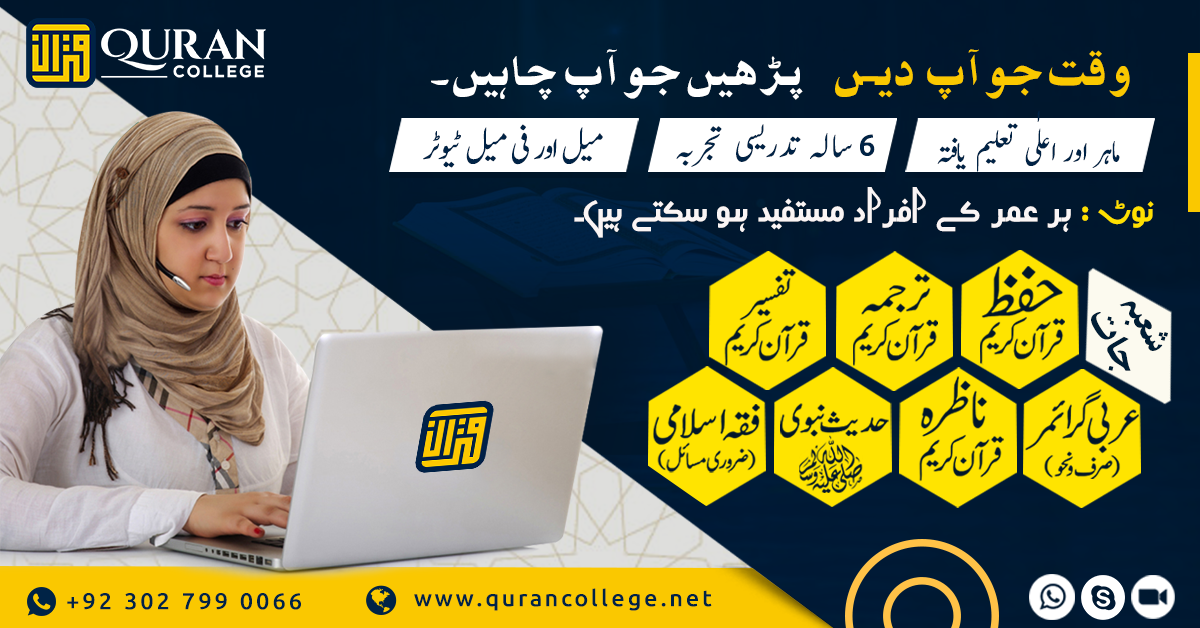 Quran College intends to inculcate the Holy Quran into all age groups of people, who wish to learn the Quran. The identity and all the related information about the students is guaranteed to be kept confidential. It is therefore a golden chance for the elderly, who hesitate from taking classes with the young students to benefit from the privacy offered in our online one to one sessions.
Parents willing to introduce their children to the treasure of virtues revealed in the Holy Quran are most welcome to witness the hard work of our teachers for developing recognition of the values and comprehension of the contents of this sacred book.
This continuous progress monitoring allows the teacher to identify the abilities and issues of every student in detail, target his/her areas of weakness and plan a suitable pace for him/her at every stage. This method aims to nurture confidence and courage in our students and develop the skills required to diagnose and explain their problems, set their own progressive targets, recognize their talents and discover their potential abilities.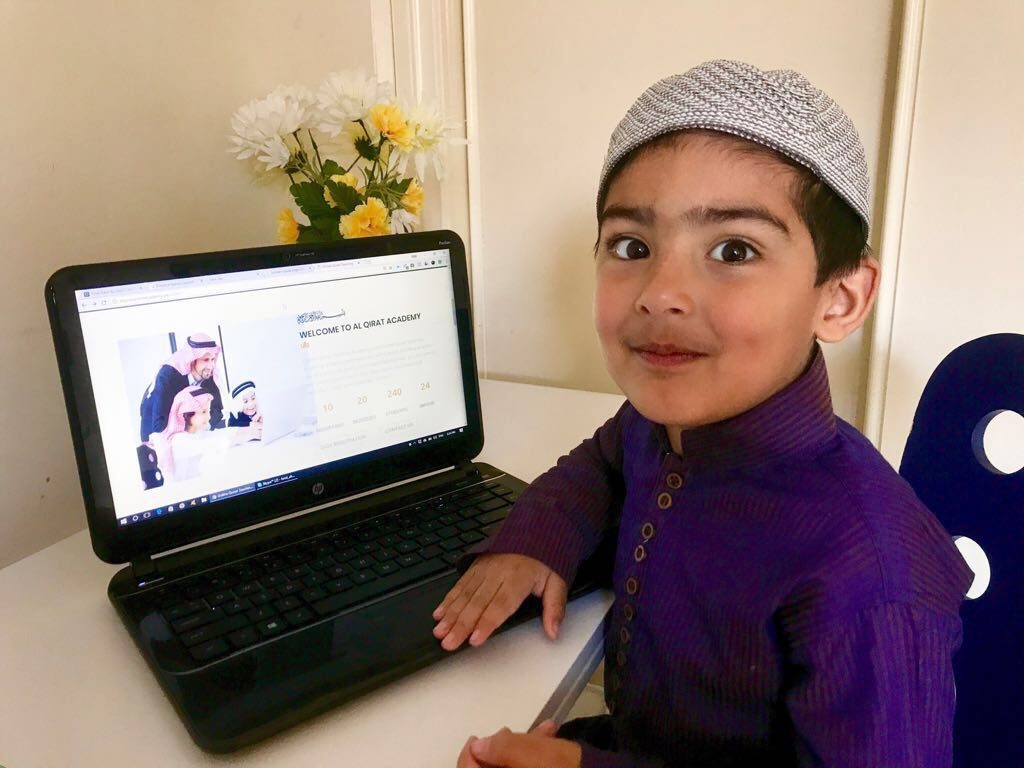 OUR AIM
Every Muslim knows the importance of learning the Quran, but only a few attempts to spend their lives on the basis of the Quran and Islamic teachings. Our Online Quran Academy is established with the aim to spread the knowledge of the religion Islam and the Quran, especially among those who are residing in places where there are no reliable resources of learning the Quran.
Being the best established online the Quran institute; our aim also includes the establishment of the religion Islam. We are striving to promote online Quran learning with the latest technology. We have been teaching Quran and Islam for years and have the aim to spread the light of Islam across the world.
Why Join the Quran College?
Our Online Quran classes are preferred by a large number of Muslim parents especially those living in the UK, USA, Canada, and Australia. We have highly qualified Quran tutors from Egypt, Jordan, and Saudi Arabia. We also have Online Quran teachers from Pakistan who can teach the kids in English and Urdu. All our teachers are fluent speakers of English and Arabic. We also have very qualified and expert female Quran teachers for kids and sisters.
We also feel proud in helping the converted Muslims to get FREE Online Quran Classes and learn more about Islam, Basic Islamic Beliefs, Prayers, and other Islamic worship and reading and understanding Quran Online.
No matter, what your age is, but if you did not get a chance to learn how to read Quran with Tajweed, Book Your Free Trials now.
Flexible Timing Schedule
Our classes & teachers are available 24/7 and you can choose times suit you.
Female Tutors Available
We have professional and experienced female tutors to teach you or your kids.
Free Trial Classes
We offer 2 free trial classes for all courses to evaluate our tutors and courses.
1-on-1 Online Classes
We provide one-on-one Online learning classes to learn more comfortably.
We deliver online lessons through Zoom or skype. This way, there is also an option of screen sharing, and communication becomes much easier. Furthermore, it all happens to live.
Our brilliant teachers make use of screen sharing options to share the pages on which works need to be done. This way, the live sessions of our online Quran academy are much practical and interactive.
You have the flexibility to pick your learning schedule. That is to say; you can have your own class time, days in a week, preferred language, and the teacher from whom you desire to learn.
Our online academy offers female teachers to female students. Moreover, we have English, Pashto, Urdu, and Arabic teachers. Thus you can easily learn online from our academy, and it will be fun for both kids and adults.
If you are confused about taking admission, then you can try our trial classes. 
Quran teaching is a big responsibility so in order to fulfill this responsibility we hire the best tutors for our students. For delivering Online Quran Classes to our students, we hire full-time tutors. The tutors are well experienced in Quran Teaching online. Every student is given individual attention by an online Quran teacher. The teachers are not only arranged for adult students, but they also give online Quran classes for kids.
Our Quran Teachers at Quran College are hardworking individuals of high caliber and self-motivated. We have trained them According to the best standards of all academies, especially for Quran Education. We intend to maintain a friendly environment to produce the best results.
The main features of the tutors include :

Well Experienced & Qualified in Quranic and Islamic Teachings
Fully Trained to teach easily online
Huffaz-e-Quran tutors for the memorization class
Completely aware of Recitation rules.
Both Male and Female Tutors